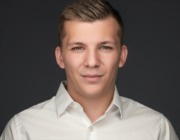 Relationships over transactions is something that I have picked up on that has important value to me. Originally from Indiana, I have established my new roots here in Orange County, CA. 
While currently living in Irvine, I have helped buyers, sellers, tenants, and investors with their real estate goals in nearly every city in south Orange County. 
While in Indiana, I was a track athlete and competed at the state level throughout high school and I went on to compete at Indiana University. Shortly after my life on the track, I went into the restaurant business to establish an important skill set used today; relationships, people, and communication.
My fiancé, Brooke, and I like taking our dog, Asypn, around the Yale Loop, trying new coffee shops, and spending time with our families. In my free time, I like to work out, listen to music, and go golfing. Also, "Go Steelers!"
If you have any questions about any south Orange County real estate, please feel free to reach out to me and I will be more than happy to assist you.