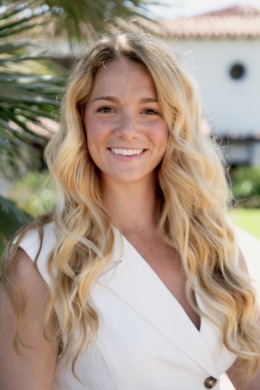 Chiara Spinazzola was born in New York City and raised in the picturesque beach town of Narragansett, Rhode Island. This is where she learned the values of hard work and determination from an early age through her passion for swimming and education.
As a dedicated student athlete at Cornell University, Chiara developed a relentless work ethic and competitive spirit that continues to drive her today. After receiving her bachelor's degree in Hospitality Management from The School of Hotel Administration at Cornell, she ventured to Orange County, California where she has spent over a decade cultivating her skills in sales, management, coaching and mentorship.
 Throughout Chiara's professional journey, she has developed a strong background in sales techniques while understanding the nuances of building relationships, executing effective negotiation strategies, and delivering exceptional customer service. Her coaching experience has further emphasized the significance of communication, attentive listening to client needs, and providing guidance for successful outcomes. It was during this time that her passion for real estate began to flourish.
 Over the past few years, her fascination with real estate grew exponentially. Chiara is captivated by the dynamics of the market and the thrill of finding the perfect property for her clients. She is dedicated to gaining in-depth knowledge of local market trends, investment opportunities, and the intricacies of buying and selling homes. Her commitment to stay informed and up-to-date ensures that her clients receive accurate and insightful advice throughout the entire process.