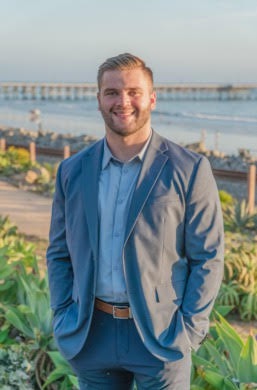 Brandon Halperin grew up in Thornton, Colorado as the youngest of three children. Brandon was taught the principles of discipline and hard work at a young age due to his developed passion for athletics

Brandon began to play collegiate level sports in 2014, after receiving both a sports and academic scholarship. He later went to obtain his bachelor's degree in Management from the Metropolitan State University of Denver in 2019.

Throughout the early years of Brandon's professional development, he acquired a strong background in service stemming from his experience in the restaurant industry as well as consulting. He brings to Realm Residential an unparalleled work ethic, and prides himself on delivering a high level of communication, transparency and reliability when working with his clients.

Brandon relocated from Thornton, Colorado to sunny San Clemente, California in 2020 where he currently resides. Though it was quite a change from blizzards to boat rides, Brandon fell in love with the Orange County lifestyle and is passionate about the opportunity to help others achieve home ownership.

When Brandon isn't hunting down your next dream home you can find him in the gym preparing for a powerlifting competition, or outside enjoying the beautiful beaches, trails, and restaurants that Southern California has to offer.